kunstschilder
Moskou 1961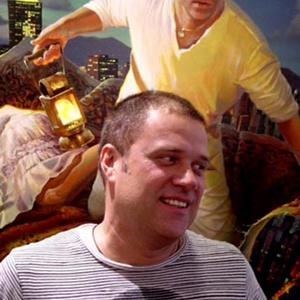 Stanislav V. Plutenko was born in Russia on the 1st of March 1961.
Plutenko studied at the Moscow University of National Economy, taking lessons in painting from private masters.
In 1984 he created his first works. From 1985 to 1990 he did designer's work in commercial advertising and joined UNESCO's guild of graphic artists in 1991.
In 1997 he was rewarded with the Grand Prix of the «Golden Brush» exhibition.
The artist's signature method is a mixed technique employing oil, tempera, acrylic, watercolour and is skilfully supplemented with masterly airbrushing and finest glazing with clear paints.
Stanislav's art is an interesting mix of surrealism, realism, some reminiscent of Salvador Dali, some of old West Indian paintings such as Michel Jean Cazabon, and many more styles. View his art work with catchy titles such as "isanaraV the Boatman", "The city of a Fisherman", "The soaring (The diptych)", "The Evening of Paper Airplanes", "The Jester Who could Persuade Any Lady" and so on & on & on.
The artist Stanislav Plutenko plays on colour contrasts, his painting is very vigorous, illustrative and imbued through by sarcasm on the reality.
In spite of the fact that the characters of his pictures are fattened and absolutely earthly ones, they are always astir – running, fluttering and flying somewhere. Having awkward bodies and unprepossessing faces they feel themselves angels and we are sympathetic towards them with their naivete.
With an identical acuteness he presents images of the people and visual psychological surroundings. In each genre stage with elements of grotesque style we can find the small history of life with symbolical underlying theme.
more information: info@esparu-ART.com
Stanislav Plutenko: http://plutenko.ru/en/news.php